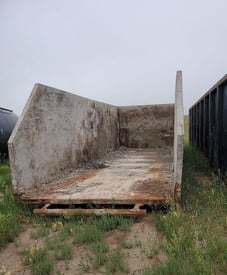 ABOUT MUD BINS
Mud Bins, also known as Mud Tanks, are open top containers that are widely used in the oil business for solidifying drilling mud and cuttings. They can also be used for construction debris and environmental clean-up on a range of job sites. These containers are typically square-shaped with a v-shaped bottom for easy drainage.
Mud bins are commonly spotted on Oil Fields because they can be used to mix, treat, and store drilling fluids or to remove unwanted solids and sediments from drilling fluid.
In addition to the Oil & Gas Industry, mud bins are also used in the construction industry for containing dirt, debris and waste from job sites.
All Geneva Equipment mud bins offer efficient containment solutions for your drilling, construction, or unique project needs. Let us help you find the mud bin that's right for your project. Our equipment goes through a 5-point inspection process to ensure it meets the standards for your job.