Trailer Types and Uses
Hoppers, step decks, and lowboys, oh my! There are so many different types of trailers available, and each one can be beneficial for certain projects or businesses. Whether you're hauling grains, heavy construction equipment, or building materials, there's a trailer perfect for you. Knowing the differences between trailer types is essential to deciding which one will be right for your job.
Discover the different types of trailers below along with their unique features and uses. We often have a wide variety of used trailers in stock, so check out our Used Trailers Inventory for our current selection.
Hoppers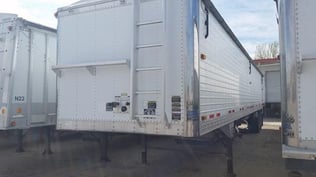 A hopper trailer is generally used in agricultural applications to haul bulk commodity products like grain after harvesting. In addition to agricultural applications, hoppers can also be used to transport materials such as sand or dirt. The large capacity makes a hopper trailer ideal for hauling materials in bulk.
The trailer can be pulled by semi-tractor to transport, or can stand along for loading, unloading or storing as needed. Hopper trailers also feature a tarp on the top that can be pulled back for easy loading and unloading or pulled over the load to protect it during transport.
The hopper trailer gets its name from the funnel-shaped design and two hoppers at the base. This unique design allows for loading materials into the top of the trailer then unloading through the controlled chutes at the base. The bottom of the trailers are also tapered in towards the hoppers, so the grain or materials can flow smoothly out of the trailer when it's time to unload.
Flatbed and Step Deck Trailers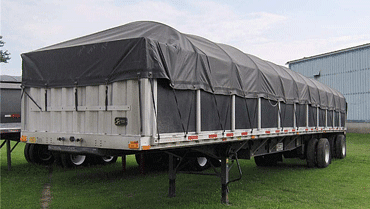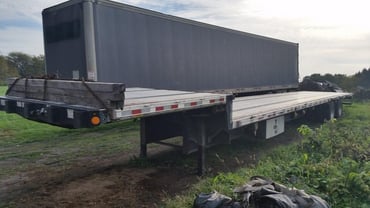 A flatbed or step deck trailer can be vital to construction applications, or other jobs that require hauling loads larger than a standard semi-trailer. Both flatbed and step deck trailers have no sides or top, so you aren't limited by length, width or height.
Most flatbed trailers come in lengths of 45', 48', or 53' to meet various project requirements. Flatbed trailers are often used to haul materials such as lumber, steel piping, and other building materials.
Step deck trailers are similar to flatbeds, but feature two platforms with one sitting higher up and the other dropping lower. The higher deck typically sits 59" off the ground to allow for connecting to a semi-tractor, while the lower deck sits anywhere from 38" to 42" off the ground. The lower deck gives these trailers a huge advantage when it comes to hauling taller loads such as construction equipment. The low deck height also makes loading and unloading easier.
The construction industry often uses flatbed and step deck trailers for hauling front end loaders and other heavy machinery, heavy concrete pieces, or steel girders used in construction projects.
Check out our selection of Flatbed and Step deck trailers in stock.
Lowboy Trailers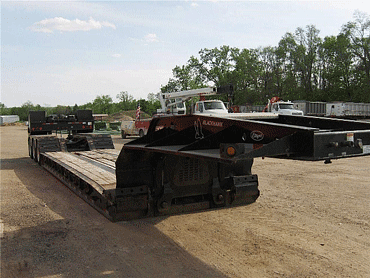 When it comes to hauling heavy equipment and oversized loads, trust a lowboy trailer to get the job done. A lowboy is a semi-trailer that sits very low to the ground, hence the name. A lowboy features two drops in deck height with one drop behind the gooseneck and the other right before the wheels. This deck design makes it possible to haul tall and heavy loads, some even up to 12 feet tall, which exceeds standard shipping height requirements for other trailer types. A two-axle lowboy trailer can handle up to 40,000 pounds, while other models with more axles can handle more weight.
The ability to haul taller and heavier loads makes lowboy trailers ideal for the construction industry when it comes to hauling excavators, bulldozers, and other heavy machinery. Additionally, lowboy trailers often come with several different neck options such as fixed-necks, removable goosenecks, and folding goosenecks. The style that's right for you depends on how you plan on loading and unloading the equipment. Some models of lowboys allow you to load from either the front or back which makes it easier and more efficient. Lowboy trailer models may also allow the trailer to be placed underneath the equipment then raised for transport.
Dolly Trailers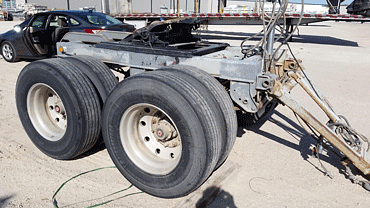 A dolly trailer is an unpowered vehicle used as a connecting device for semi-tractors or other trucks. Dolly trailers typically feature one or two axles which allows a semi-trailer to hook to the back of a tractor trailer combination. The result of this connection is known as a double bottom rig. The dolly trailer acts as support for the semi or hauling unit and can allow for loads to be accommodated by the same trailer, which saves time and manpower.
Dolly trailers are a great addition to fleets and businesses that often haul smaller loads and want to save on freight costs by combining those loads. Want to add a dolly trailer to your fleet or business? Our large nationwide network means we have connections and can work hard to find what you need.
End Dump Trailers
End dump trailers are designed to dump loads from the back of the trailer, as the name implies. The construction industry takes advantage of end dump trailers to haul materials such as demolition debris, stone and other landscaping or construction materials. They typically have high sides for better yard capacity and a good ability to maneuver and unload in tight spaces.
End dump trailers use hydraulics to lift the front of the trailer so that the contents slide down and fall from the back end. The high, aluminum sides make these trailers tough and able to handle larger loads to save on time and effort during any project.
Check out our current selection of End Dump Trailers available.
Side Dump Trailers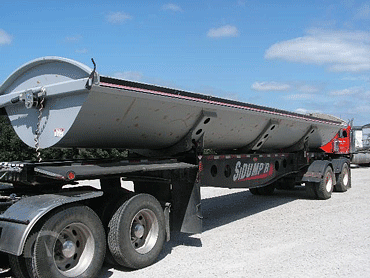 A side dump trailer is the trailer of choice when it comes to road and levee construction, excavation and pit mining. The unique features of a side dump trailer offer the ability to dump loads from either the right or left sides, as opposed to an end dump style. A side dump trailer also remains more stable during the unloading process, which is important for job sites with uneven surfaces. Side dump trailers are most commonly used in the construction industry, but can also be beneficial to a wide range of projects across other industries.
Another advantage of side dump trailers is that they can deposit material in a specified row rather than all in one spot. They are commonly used to haul materials including gravel, dirt, sand and other fine materials. The water-tight tub also allows for easy hauling of liquids and semi-liquids. Side dumps also do not require the air ride suspension to be deflated before dumping, which makes the unloading process much faster and can save a lot of time on any job site.