FRAC TANK TYPES AND USES
A Frac Tank is a large, movable heavy gauge steel storage tank. Typically holding up to 21,000 gallons (500 BBL), it readily provides storage for fresh water, waste water, fuel, chemicals, fertilizers, and more. Easily pulled by a tractor to the job site, it can be moved/emptied as the need arises. Below you can explore different types of tanks and their typical uses. Also check out Industries Served.
FLAT TOP TANKS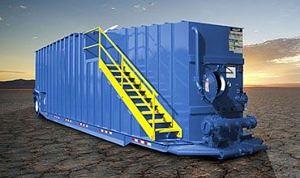 GENERAL INFORMATION
The most popular type of Frac Tank, the Flat Top boasts 21,000 gallons (500 BBL) of storage. Economical and convenient, it is widely used across a variety of industries. In the environmental industry, flat top frac tanks are helpful for storing wastewater, chemicals and fuel. Want to learn more? Check out our Closer Look at Flat Top Tanks post.
TYPICAL USES
Fracking site storage for sand and water
Groundwater remediation
Septic wastewater storage
Freshwater storage
Manure management
SLOPE TOP TANKS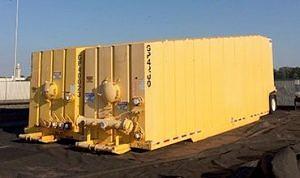 GENERAL INFORMATION
The Slope Top tank is similar to its cousin, the Flat Top. It boasts a 21,000-gallon (500 BBL) capacity, but has a shorter length. Its sloped design gives it a tighter turning radius to maneuver well on farm roads and in tight places. Learn more in our post: A Closer Look at Slope Top Tanks
TYPICAL USES
Agricultural applications: manure management, chemical fertilizing, fuel storage
OPEN TOP TANKS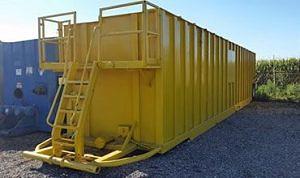 GENERAL INFORMATION
The 21,000-gallon (500 BBL) open top frac tank can store a variety of liquids. This includes freshwater, wastewater, and occasionally fuel. The open top makes it simple to check fluid levels and allows easy access for cleaning the tank after a job.
TYPICAL USES
Freshwater storage in construction and agricultural industries
Storing liquids like run-off water, diesel fuel, glycol, and oils in the environmental, agricultural, energy, construction, and chemical industries
DOUBLE WALL TANKS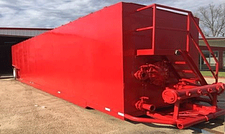 GENERAL INFORMATION
A 16,000-gallon Double Wall is the tank of choice when environmental concerns run high. Its second internal wall assures the highest standards when dealing with dangerous chemicals. This is especially critical when operating near fresh water areas.
TYPICAL USES
Containment of dangerous chemicals in environmental applications near fresh water
Agricultural applications with Mandatory EPA requirements
Secondary containment of petroleum storage
GAS BUSTER TANKS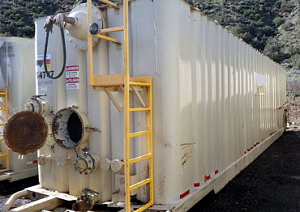 GENERAL INFORMATION
Gas buster tanks enhance safety by preventing the buildup of dangerous combustible material. They stabilize the thickness of mud and oil emanating from the oil drilling process. Its special design allows gasses to escape from a top vent while fluids dispense from the bottom of the tank.
TYPICAL USES
Remove free or entrained gas from fluids circulated in the wellbore, such as mud used during drilling operations
Stabilize mud viscosity while preventing blowouts and keeping the oilfield job site safe
Perfect for use while flowing back a well
ACID TANKS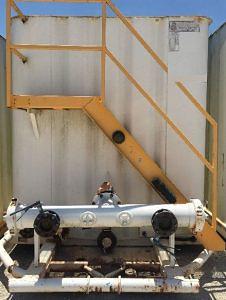 GENERAL INFORMATION
Acid tanks are specially designed for high acid resistance. Great for storing hydrochloric acid (HCL) at the job site, most tanks are 21,000 gallons (500 BBL) in size and can handle HCL in concentrations between 15% and 32%.
TYPICAL USES
These tanks are great for storing hydraulic fluid.
Storing acids used to acidize petroleum wells
For use with heavyweight chemicals like sulfuric acid
WEIR TANKS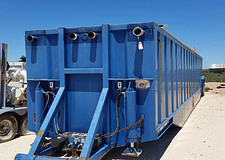 GENERAL INFORMATION
Weir tanks have a storage capacity of 18,100 gallons. As the name, weir implies, these tanks control the flow of liquid and particulates in the tank. Over and under weirs speed up the settling of solids, particulates, and floating oils. Some Weir Tanks have a "V" shaped floor designed to drain stored liquids from underneath with ease.
TYPICAL USES
Oilfield application when it is necessary to separate oils from particulates
Jobs needing solid & sediment separation, with the ability to drain stored liquids from underneath
Projects needing a portable tank that can quickly move from one location to another for disposal and/or filtration of contents
MUD TANKS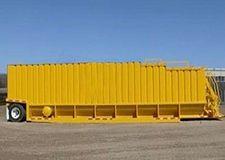 GENERAL INFORMATION
When your job requires the separation of materials at the job site, the 21,000 gallon (500 BBL) Mud Tank delivers. Storing fluid and rock fragments transported to the surface from an oil well is a typical use in oilfield applications.
TYPICAL USES
Fracking wells in the oil and gas industry
Storage of drilling fluid on a drilling rig
Separating drilling mud from the cuttings for recycling
Freshwater storage in advance of fracking
SKIDDED TANK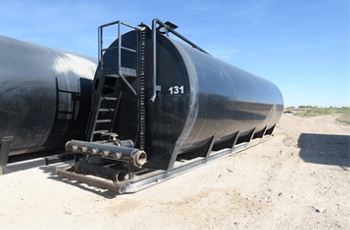 ABOUT SKIDDED TANKS
A skidded tank is a tank mounted on a steel structural support such as angle iron or beams. The platform generally provides three functions:
Allows the tank to be dragged from one location to the next.
Prevents the round shaped tank from rolling.
Allows the tank to rest above the ground to limit exposure to rain and snow and hence rust.
A handy feature of the skidded tank is that for fuel, it can be a self-contained dispensing and storage system which can be moved where it is needed with relative ease.
VACUUM TANKS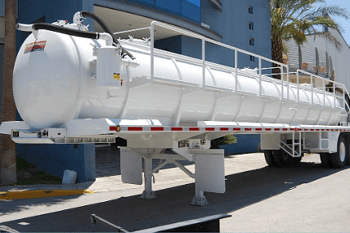 ABOUT VACUUM TANKS
Vacuum trailers are generally used to transport sewage, human, and animal waste, and industrial liquids. They are outfitted with pumps and can be used in conjunction with a businesses vacuum truck for extra storage, holding power, and transport. Common industries for this product would be water sewage treatment in environmental industries, agricultural, and chemical industries.