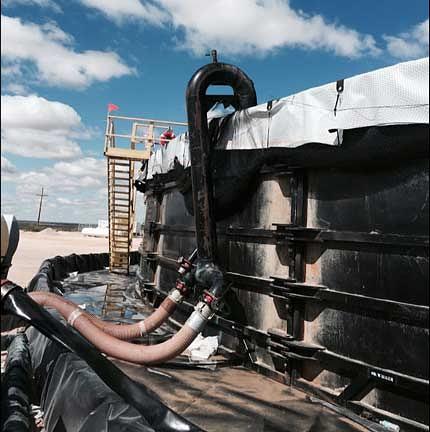 ABOUT FRAC PONDS
A frac pond is a retention pond typically used in the Oil & Gas Industry during the fracking process to store massive amounts of fresh water, produced water, or flowback from the well. Also known as frac pits, these large storage ponds are commonly lined with thick plastic that is sealed at the seams to prevent leaks.
A frac pond is a necessity to fracking sites for several reasons but containing flowback is a major one. Flowback generated during extraction can contain chemicals, radioactive elements, and other hazardous contaminants. The last thing anyone wants at the job site is a spill of these hazardous materials, so a high quality frac pond with a thick liner ensures they do not reach ground or surface water supplies.
When environmental impacts are of concern, you need to trust that your frac pond adheres to EPA guidelines. All Geneva Equipment ponds and liners adhere to the rigorous EPA standards.
Frac ponds are available in many different sizes to meet the requirements of any job site. Eliminate the constant back-and-forth transportation of water to your well site with an above ground frac pond large or small enough for your needs.
When a frac pond is designed for quick and easy assembly and tear down, your project not only goes smoother but also saves valuable time and resources. Interested in learning more about our frac pond solutions? Contact us to discuss your project.