Truck Types and Uses
Trucks are essential to the transportation industry, because they move products from one location to another. Whether it's retail freight, construction materials, or industrial supplies, a truck is a necessary asset to many businesses. Looking for a semi-tractor, tandem, or spotter? We have a large inventory of stock trucks, and we also have access to a nationwide network where we can find what you're looking for if we don't already have it. Plus, we can deliver your truck if needed.
Semi-Tractors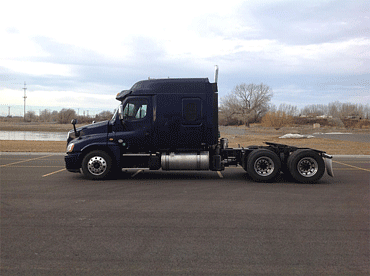 Big rig, eighteen-wheeler, semi-truck, semi-tractor. Whatever you call it, it's one of the most important pieces of equipment to so many industries and businesses. A semi-tractor is the combination of a tractor unit and one or more semi-trailers which carry freight. The trailer attaches to the semi-tractor via fifth wheel. Here at Geneva Equipment, we deal with all the top brands including International, Freightliner, Volvo, Peterbilt, and Kenworth. A semi-tractor typically features two axles but can also feature as many as five axles for hauling heavy-duty loads.
There are different styles of semi-tractors available including sleeper and day cab models. A sleeper is a type of truck that has a compartment behind the cabin with a bed for the driver to sleep during long hauls. Sleepers usually come in flat, mid-roof or raised roof options. The mid and raised roof options offer more storage and headspace than the flat roof option. A day cab style semi-tractor is designed for shorter trips usually lasting only one day and does not feature a sleeping area.
Semi-tractors can also run on their own when they aren't hauling anything, so a driver can bring a load to its destination then completely disconnect from the trailer for the trip back. This versatility means that a semi-tractor can be hooked to different types of trailers depending on the load, such as a flatbed or lowboy for heavy equipment, a hopper after harvesting, or even just a standard enclosed semi-trailer.
Whether you're looking for a day cab, or a sleeper, we can find it at the right price and deliver it to your door. Take a look at our current selection of Semi-Tractors in stock. Need a trailer as well as a semi-tractor? Discover our stock of used trailers as well.
Tandems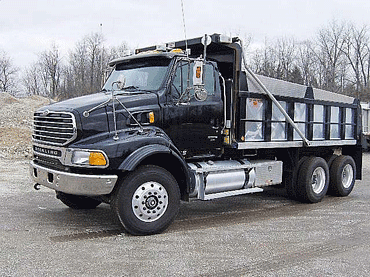 Dump trucks, firetrucks, fuel and water trucks, or even trucks equipped with cranes are classified as tandem trucks. A tandem truck is designed with a double axle in the back. Most tandem style trucks have two wheels on each end of the axle that are both drive axles. The dual axle design offers a more stable ride, especially on construction sites or country roads. The unique design also gives tandem trucks better traction on slippery surfaces.
In addition to a more stable ride and better traction, tandem trucks also offer the ability to carry heavier loads. The design of the tandem truck distributes the load's weight evenly across the rear axles, where the centers of the axles are between 40 inches and 96 inches apart. The ability to carry heavier loads makes tandem trucks a great option for use as dump trucks where hauling heavy loads is an everyday task.
Looking for a tandem truck that fits your specific needs? Let us know what you plan on using a tandem truck for or what kind of project you're working on and we'll help find one that meets your needs.
Spotters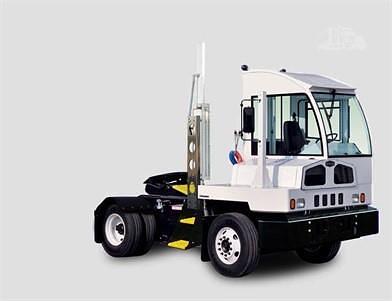 The Spotter Truck is the small but tough hardworking star of the truck world. A spotter, also known as a terminal truck, is used mainly to move semi-trailers within a yard or warehouse facility. Since spotters stay within a contained yard or warehouse location, they often only have a speed of around 25 MPH. They also feature a fifth-wheel with a unique integrated lifting mechanism, allowing a semi-trailer's legs to stay in the lowered position during movement. A spotter makes moving semi-trailers easier and faster.
Spotter trucks are distinguished by their short wheel base and single person cab offset to the side of the engine. The single person cab of the spotter truck has a full height sliding rear door so the operator can easily move out of the cab to make connections. The cab also features a 360-degree view. Since these trucks have a very specific use, they do not need all the features that a standard semi-tractor would have, but the features they do have is what makes them unique.
A spotter truck could be a beneficial asset to your business if you often need to move semi-trailers throughout your yard or warehouse.
Need a trailer to go with your new truck? Check out more information about different trailer types and uses to find one that works best for your project or business.