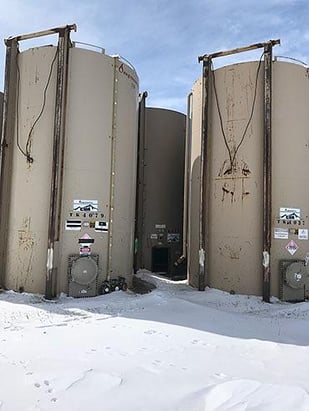 ABOUT UPRIGHT (VERTICAL) STORAGE TANKS
Vertical storage tanks, or upright storage tanks, are typically used for bulk storage across many industries, such as oil & gas, construction, and agricultural industries. These tanks can store materials such as oil and fuel, plus they have a few key advantages when compared to horizontal tanks.
First, vertical tanks take up less space on your job site due their shape. These tanks take advantage of gravity, so you can store more liquid going upright compared to horizontal tanks that take up more ground space. This is especially important in applications where the job site has limited working area, and you want to utilize as much space as possible. Since upright tanks have a smaller footprint, they can often be transported easier as well. For example, two 12' diameter tanks can fit on a 53' step deck.
Don't be fooled by an upright tanks' small footprint, though. Upright tanks can range in sizes such as 400 BBL (16,800 gallons) and larger. Many upright storage tanks tend to be larger capacity compared to horizontal tanks.
Second, vertical tanks can generally handle a large amount of product because of the pressure distribution. These unique tanks lack the stress points found in horizontal tanks, so they're stronger and more versatile.
Finally, vertical tanks are cost effective for a couple reasons. They require less material to manufacture because they have a smaller diameter than a horizontal tank and do not need to be as thick. Plus, since these tanks take advantage of gravity, they save big on pumping costs.
Interested in learning more about the upright or vertical storage tanks we have available? Contact us today. We have a large network of heavy equipment all over the U.S. and can work to get you the right tank delivered to your job site.