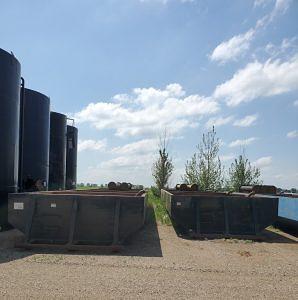 About Floc Tanks
Floc tanks are a type of storage tank that feature 3 to 4 compartments and an open top. A floc tank is commonly used in the oil & gas industry, especially in an oilfield application to separate oils from particulates. In addition to oilfield applications, floc tanks may also be used in jobs needing solid and sediment separation.

Floc tanks can be used to store a variety of materials, but are most widely known for storing fluids such as contaminated water or drilling fluid. The open top of the tanks allows operators to easily assess fluid conditions and levels. Some floc tanks may also feature a gas buster on top for situations involving harmful gases or strong odors.

Floc tanks work similarly to a weir tank, as they can easily control the flow of liquid and particulates. They also feature separate compartments that are used for mixing. Each compartment features its own drain line for easy draining and cleaning.

On top of their unique features, floc tanks are easy to transport. Need a floc tank and want to get it delivered? We do that! Contact us for a quote with delivery, or to learn more about our current inventory.