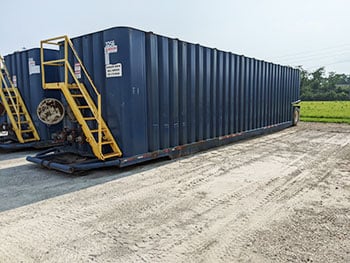 The flat top frac tank is the most widely used throughout multiple industries. A flat top tank gets its name from the closed, flat roof of the tank. This closed top means safety and security for any application. The top prevents people from falling into the tank, and protects the stored liquids from elements such as rain, snow or pollution. Use a flat top frac tank on any job site for safe and reliable liquid storage.
Flat Top Tank Specifications
Flat top frac tanks are typically 9'6" H x 8'6" W x 46' L and can easily hook to a semi-tractor for transportation between job sites. These tanks also have a capacity of 21,000 gallons (500 BBL) and can have either internal or external manifolds. No need to tilt your frac tank to empty it, because flat tops feature low points to make draining and cleaning easier.
Flat top tanks also feature multiple valves that can be coupled with pumps or hoses for filling and draining the tank. There are multiple manways on flat top tanks often on the front, side and top. Although flat top tanks may look the same on the outside, it's what's on the inside that matters to many projects. Flat top tanks often feature lined interiors perfect for specific hazardous or non-hazardous materials, while others in the northern regions are insulated to withstand harsh weather conditions.
Liquid Storage for Any Industry
From dewatering on construction sites, to wastewater storage for septic pumping operations, a flat top frac tank is the number one choice for bulk liquid storage. The materials typically stored in a flat top frac tank vary depending on the industry application. Farmers across the agricultural industry store fertilizer and manure in flat tops. For the construction industry, dewatering operations run more efficiently when pumped into a flat top tank. The Oil & Gas industry often needs bulk water (fresh or dirty) on hand, fuel for heavy equipment, or a safe place to store flowback from a well.
How could a flat top frac tank benefit your project or job site? When it comes to safe liquid storage, trust the experts at Geneva Equipment to get you the right used flat top frac tank delivered right to your door. Contact us for a quote.