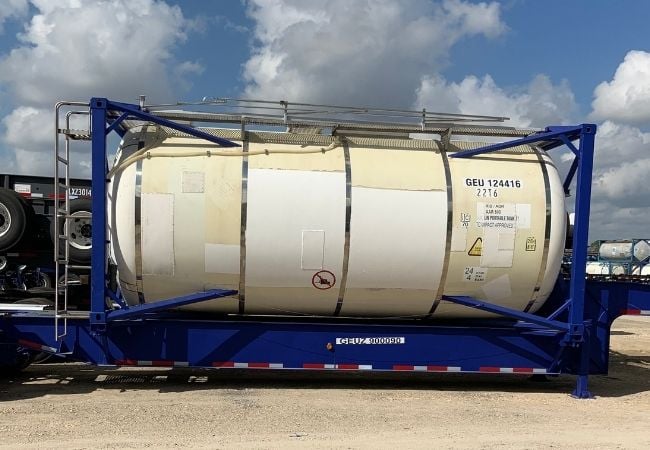 ISO tanks are a type of storage tank with an outside frame around a cylindrical tank that can carry bulk liquids. ISO tanks have quite a few features that offer unique advantages compared to other types of tanks. The outside frame is always the same size, the linings are strong and can be food safe, plus the ISO tank's unique design yields a lower transport cost which makes it a more cost effective option that can save money and manpower.
The Unique ISO Tank Frame
The outer frame of an ISO tank is always the same size at 20ft x 8ft x 8ft 6in and made out of steel. Although the outside is the same, the cylindrical tank can come in different sizes depending on your capacity needs. ISO tank frames are also locked into place, which prevents the inner contents from shifting or causing accidents. On ISO tanks you will see an access ladder on one side and walkways across the top for access to the discharge valves, filling port and a manhole. The sturdy steel construction of the frame means that they can withstand cranes and stacking during transportation which makes them ideal to transport via rail or ship.
Sturdy Lining Fit for Any Liquid
ISO tanks can easily handle both hazardous and non-hazardous materials due to their inner lining. Some tanks can even be food grade safe for transporting food products. The tanks themselves are made of stainless steel inside that is surrounded by protective layers outside to prevent leaks. The stainless steel lining means that the tank can be easily and thoroughly cleaned in between uses. Transport liquids such as water, food products, oil and even sulfuric acid in a high quality ISO tank.
Cost Effective Transportation
Transporting materials from truck to train to ship is easy with ISO tanks. These framed tanks can easily be mounted on a semi-truck chassis, train or stacked on a cargo ship without ever having to transfer the contents. This unique feature saves businesses both money and manpower. They also save big on space with their ability to stack on top of each other, which can come in handy on job sites with limited ground space. Take advantage of the stacking ability to store more materials within a smaller footprint.
Certified Peace of Mind
Brand new ISO tanks are manufactured according to international regulations, so you can trust that a new tank will be suitable for certain materials such as potable water or food products. Used tanks also offer their own peace of mind because they undergo rigorous inspection and need to be certified at certain times. All of the available used ISO tanks at Geneva Equipment come with new 5-year ABS Certification upon order, so you can trust that your tank is high-quality and will stay strong for your project.
ISO tanks are increasingly becoming a popular choice when it comes to transporting bulk liquids. Contact us to learn more about the ISO tanks we have available and for a quote with delivery to your door.