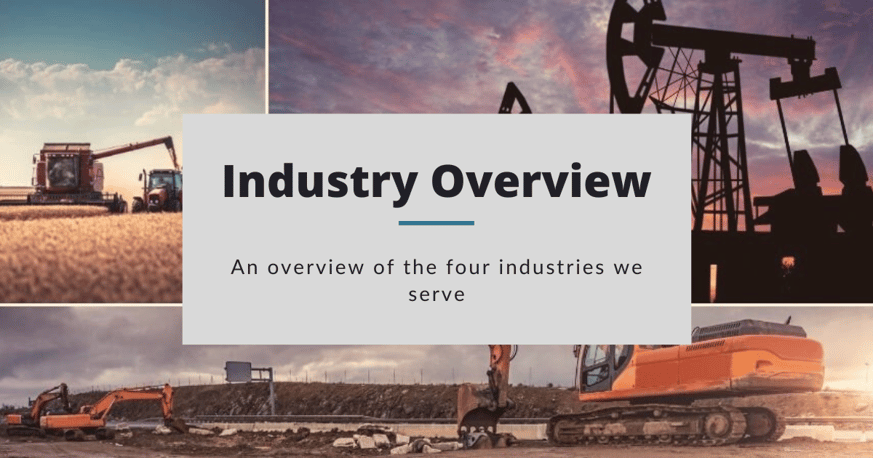 Many industries require heavy equipment in their daily operations. Frac tanks, trucks, trailers, and more are used on construction sites, farms, oil and gas operations, and environmental projects. How do different industries utilize different types of heavy equipment?
Oil & Gas Industry
Frac Tanks get their name from their use in fracking operations. The Oil & Gas industry uses frac tanks for many purposes including water, chemicals, drilling fluids, and drilling mud. Keeping frac tanks on-site to store materials can save time and manpower.
The type of frac tank used will depend on the materials being stored, and many job sites use multiple tanks at a time. Here are some examples of how different tanks are used in oil field operations:
Flat top tanks are great for fresh and dirty water storage. Water is used in drilling to fracture the ground and open up a well. Besides fracturing, fresh water is used to remove mud and debris from the drill and to cool it. Flowback water needs a place to be stored before disposal. On-site fuel storage is also key.
Acid tanks are used to store various chemicals used throughout the process including hydrochloric acid.
A mud tank is uniquely designed with mixing capability. It can store fluids from drilling and control solids. The bottom shape allows the tank to be easily drained.
Gas buster tanks come in handy when storing combustible materials, since they have a vent at the top to allow gas to escape while fluid dispenses at the bottom.
Environmental Industry
From water remediation to septic pumping, any environmental project needs the right equipment to get the job done.
Vacuum tanks are mainly used for cleanup operations or septic pumping including build-up from sewers, septic tanks and hazardous waste. They can be mounted on a flatbed or truck for transportation, and use high-pressure hoses along with a strong pump to create suction.
Frac tanks are used in a variety of ways for environmental projects:
A double wall frac tank is the tank of choice when environmental concerns run high. Its second internal wall assures the highest standards when dealing with dangerous chemicals. This is especially critical when operating near fresh water areas.
Flat top tanks are used for septic pumping or other cleanup operations. Vacuum tanks pump directly into a frac tank placed at a central location. A frac tank can hold multiple loads which can save time and back-and-forth travel for the vacuum tanks thus creating more efficiency.
Open top frac tanks allow the easiest access to check fluid levels in the tank during environmental clean-up operations. An open top tank has 24" manways to allow the easiest access to clean tanks after the job is finished. Store dirty water during an environmental clean-up operation in an open top tank with a capacity of up to 21,000 gallons.
A weir tank is used in pond and sludge dewatering to speed up the settling process of solids, particulates, and floating oils. This separation makes for easier disposal and the weir tank is perfect because it has separate compartments and a V shaped floor.
Agricultural Industry
Of course, trucks and different types of trailers are used in agriculture operations, but did you know that frac tanks can also be beneficial? A frac tank can be used on farms to store water for livestock, fuel for heavy equipment, and even manure and fertilizer for fields. Place a frac tank in between fields or throughout large operations for quick and easy access.
The slope top tank is the most commonly used for farms because it is easier to maneuver on narrow roads. The slope top tank is taller on one end and shorter on the other, giving it a sloped top and shorter overall length.
Semi-tractors are also used throughout farming operations for a variety of purposes, like transporting crops, materials and livestock. The trailers needed depend on the application, such as hoppers for harvest season or flatbeds for hauling hay bales.
Construction
In addition to the common heavy equipment used on construction sites, frac tanks make for convenient and economical storage of water or fuel. Frac tanks are used in the dewatering process, which is the removal of unwanted water from working areas. This is common when a site is first excavated or after rain or during digging operations to maintain a dry and safe working environment. Pump the unwanted water into a frac tank on site for safe bulk storage, then dispose of it later.
Two materials that most construction projects need in bulk are water and fuel. Water is used for concrete mixing, drilling, site clean-up, hydrostatic testing of pipelines, and more. Instead of having multiple water trucks standing by and waiting, use a frac tank to have bulk water ready to go, then use it to store the dirty water afterwards as well. Bulldozers, cranes, trucks, and other heavy equipment require fuel. Store bulk amounts of fuel onsite in a frac tank for quick and easy refueling, so your team can continue running efficiently throughout your project.
Benefiting Any Industry
From frac tanks and vacuum tanks, to trucks and trailers, any industry needs the right equipment for the job. Used equipment can save thousands on costs upfront, and can continue benefiting companies for years to come. Have questions about equipment, or looking for certain equipment? Contact us for more information and we can work to find what you need.