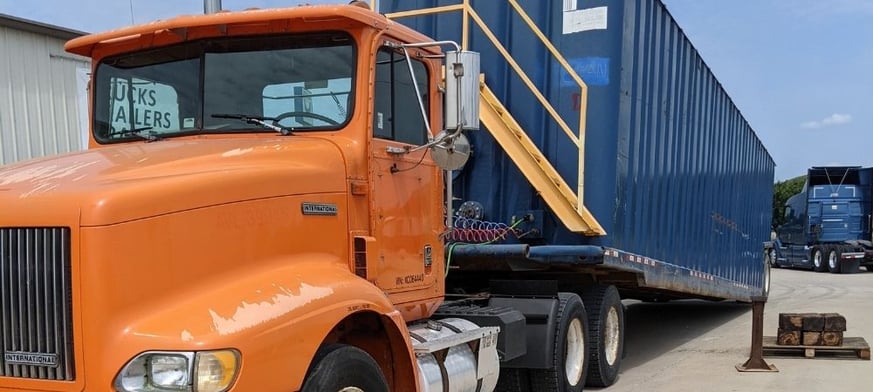 Looking to purchase a frac tank, but not sure how to transport it? Your feedback inspired us to create a new 'Info Series' featuring more information about common questions, starting with loading and unloading a frac tank.
When you need to pick up a frac tank, you can use a few methods to lift and load it onto the semi-truck. If you're having your tank delivered, it's also important to know how to unload that tank and set it where it needs to be.
Lifting A Frac Tank
The first step in loading a frac tank for transport is to lift and prop the front end up on blocks or stands. Before lifting, ensure that the back tires are blocked so that the tank does not roll backwards.
To lift the front end of the tank, you can either use a forklift, winch or wrecker. If you're using a forklift, it must be rated for 8,000 pounds or more. A typical frac tank weighs around 24,000 pounds, but you're only picking up the front of the tank, so your forklift doesn't have to be able to handle the full weight. Whichever method you use, bring the tank to around 47" high to allow the truck space to back underneath.
Once your tank is raised up, you can use blocks or stands to keep it elevated. In our example, we used railroad ties that were cut into 6 blocks. Stack the blocks uniformly on each side to ensure proper weight distribution, and usually around 15-16 feet back from the front.
Now that the tank is lifted and propped up, it's time to back the truck under to engage the fifth wheel and connect the air lines and lights. Take out the blocks and you're ready to head down the road!
View Our Lifting A Frac Tank Video
Lowering A Frac Tank
When you're ready to receive your frac tank, make sure you have a method of lowering the tank, we recommend either a forklift or wrecker, and your blocks or stands. Before the tank comes off the truck, block the back wheels and place your blocks about 15-16 feet from the front of the tank for support.
Once your tank is supported on the blocks, you can unhook it from the truck and drive forward. Now, use your forklift or wrecker to lift slightly, remove the blocks or stands, and then set the tank down.
Before hooking up the tank or filling it, make sure it's sitting flat on the ground. If you're not lucky enough to have a flat concrete surface, you can use gravel or tightly packed dirt to make a flat surface.
It's important to note that you will want your tank placed in the best spot on your job site for easy access to the valves for filling and draining. Now that your tank is lowered onto a flat surface, it's ready to use.