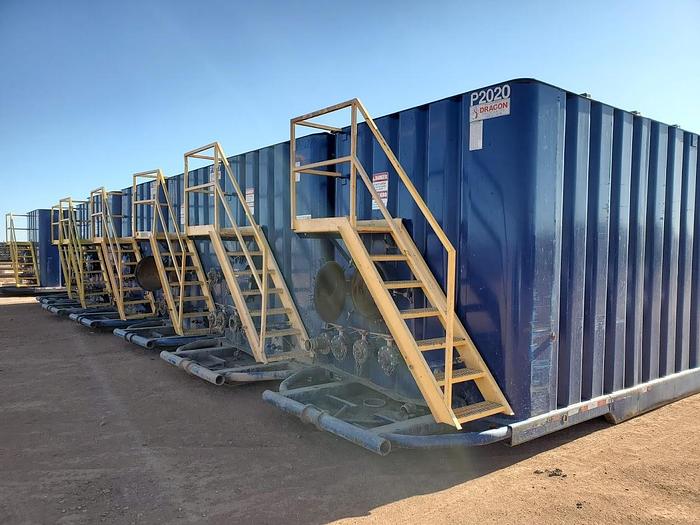 A frac tank is a large piece of mobile equipment used to store bulk liquids. These tanks get their name from their popularity in the oil & gas industry for fracking liquids, but they can also be used for so much more.
Frac tanks come in different sizes and designs to incorporate a wide variety of applications. The popular flat top tank is used the most often because it has a large storage capacity of 21,000 gallons (500 BBL) and with its closed top it is the ideal solution to safely store all kinds of liquids on site.Frac tanks offer great temporary bulk storage for liquids such as water, fuel, wastewater, fertilizer, and even gaseous or acidic fluids.
When would you use a frac tank?
Need to store bulk fertilizer for your fields? Use a frac tank. Need a safe place to pump water from dewatering on your construction site? Pump into a frac tank. Want to make your septic business more efficient? Pump the waste into a frac tank in between jobs and you'll increase the number of jobs you can do in a day. Have a large scale project that requires acids or hazardous fluids? Trust a specialized frac tank for safe storage. These unique tanks are beneficial for construction and agriculture sites, as well as environmental and oil and gas applications.
While similar in many ways, the special design of some tanks fit unique purposes. A slope top tank is great for farmers because it can maneuver easily on narrow farm roads. In the same respect, a double wall tank is ideal for job sites where environmental impact is a concern. Choosing the right frac tank for your project is easy when you trust the experts at Geneva Equipment.
Frac Tank Dimensions
The most common frac tanks including flat tops, double walls, acid and open top tanks have similar outer dimensions of 9'6" H x 8'6" W x 46' L. As for the weight, tanks generally fall between 24,000 to 28,000 pounds. The design of a frac tank incorporates back wheels which allow it to be moved easily from one location to another by a simple semi-truck.
Flat top, open top, and slope top tanks have a capacity of 21,000 gallons or 500 BBL, while other types like the double wall hold 16,000 gallons due to the additional interior wall. No matter which one you choose, a frac tank can handle your bulk storage needs.
Your Tank Solution
Looking for a frac tank near you? You're in the right place! We have a large nationwide network of tanks located across the United States in North Dakota, Pennsylvania, Texas, Illinois and more. No matter where you are located, we either have tanks near you or can find exactly what you need and have it delivered to your door. Contact us to talk with a member of our team about our tank solutions.
To learn more about frac tanks including how to lift a tank, set it down and some important safety precautions, view our Info Series Videos Here.