Learn About Frac Tanks
What is a frac tank? A frac tank is a large, moveable steel storage tank that can hold fresh water, wastewater, fuel, chemicals and other liquids. There are different types of frac tanks that vary in capacity and features, but all frac tanks can be easily moved and emptied as needed depending on the project or job site.
Since different types of frac tanks have their own unique features, so many industries can benefit from these storage tanks. For example, a slope top tank is great for agricultural applications because it is easier to maneuver on narrow farm roads. Not sure which tank is right for you? Let us know about your project and we can help determine which tank will work best.
No need to tilt your frac tank to empty it, as they are designed with low points that make emptying and cleaning the tank easy. Frac tanks can also be hooked up to pumps, filters, vacuum boxes and other equipment on site for convenient filling or draining. Most tanks also feature multiple valves, so they are easy to hook up no matter where they're placed on the job site.
Read more about the different types of frac tanks available and their features and uses. Then, contact us for more information about the tanks we have available or can get for you.
FLAT TOP TANKS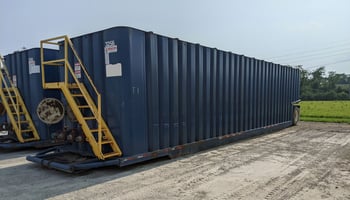 The flat top frac tank is the most widely used. Flat top tanks boast a large 21,000 gallon or 500 BBL capacity. These tanks weigh roughly around 28,000 lbs and are usually 9 feet 6 inches high, by 8 feet 6 inches wide and 46 feet long.
Flat top tanks are used in the environmental industry for storing wastewater next to septic pumping operations, or for storing water that has been contaminated by fuel or chemicals. You can pump the dirty water into the frac tank for temporary onsite storage, then easily transport the tank to another site for disposal or filtration.
Flat top tanks are also ideal for construction projects, and Oil & Gas Industry applications because of their large capacity. In these situations, flat top tanks can be used for storage of fresh or dirty water, fuel, fracking sand, and more.
SLOPE TOP TANKS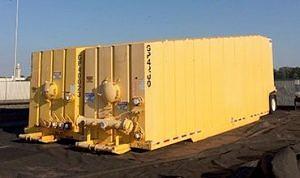 A slope top is similar to a flat top tank but has it's own unique features that make it ideal for certain situations. The slope top tank offers the same large 21,000 gallon or 500 BBL capacity, but with a shorter length and top that is higher on one end. Slope top tanks are usually 12 feet 6 inches high, 8 feet 6 inches wide, and 41 feet long.
The shorter length makes slope top tanks ideal for any project that is accessed by narrow roads since this gives them a tighter turning radius. Most of the time they are used in agricultural applications or a job site that is located in a hard-to-reach area for longer tanks. Many agricultural projects use slope top tanks for storage of fertilizer, liquid manure, and fuel for farm equipment.
OPEN TOP TANKS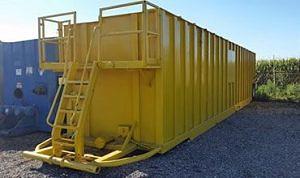 Need to be able to check fluid levels or the state of the contents inside a frac tank? An Open Top Tank is the perfect fit for this need. An open top is similar in size and capacity to the flat top, but offers no top so that you are able to easily check the contents inside as needed. The open top design and 24" man ways allow for easy cleaning after the tank has been emptied.
Open top tanks are typically used in the Oil & Gas Industry for storing fresh water, run-off water, or dirty water from the fracking process. Open top tanks can store up to 21,000 gallons or 500 BBL.
DOUBLE WALL TANKS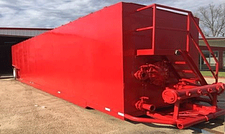 Dealing with dangerous chemicals? Need to meet mandatory EPA requirements? A double wall tank can give you peace of mind with its second internal wall. The secondary wall acts as backup containment in case the tank leaks. Double wall tanks have an outer dimension of 9 feet 6 inches high, 8 feet 6 inches wide, and 46 feet long with an internal capacity of 16,000 gallons.
Double wall tanks are ideal for projects operating near freshwater areas that need to store dangerous chemicals or contaminated materials. Don't let your job site become dangerous or fail to meet EPA requirements; contain dangerous materials with a double wall tank.
GAS BUSTER TANKS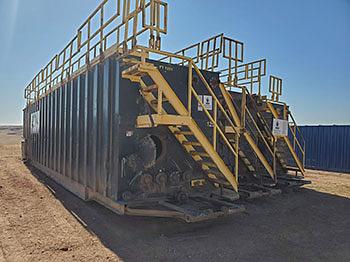 Ensure a safe job site by preventing the buildup of combustible materials when you store them in a gas buster tank. The unique design of a gas buster tank allows gasses to escape from a top vent while fluids dispense at the bottom of the tank.
Gas buster tanks are used often in the Oil & Gas Industry. A job site may use a gas buster tank to remove free or entrained gas from fluids circulated in the well bore. They can also be used to stabilize mud viscosity while preventing blowouts, which keeps the oilfield job site safe.
ACID TANKS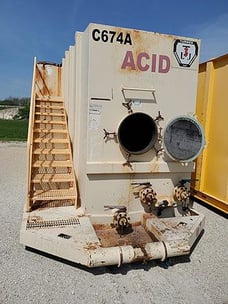 Acid tanks, as the name suggests, are designed specifically for storing materials with high acidity. The acid resistant lining means that these tanks can handle acidic materials without the worry of the material wearing down the tank. Most acid tanks can store up to 21,000 gallons or 500 BBL.
An acid tank is a great solution for storing hydrochloric acid used in fracking operations. They can also be used for hydraulic fluid, sulfuric acid, and other highly acidic materials.
WEIR TANKS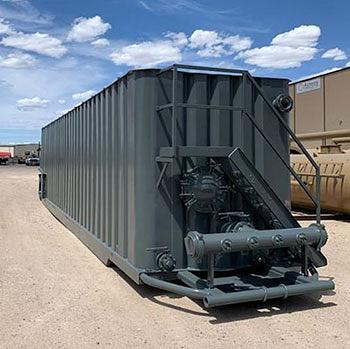 Need your tank to separate solids and sediments? A weir tank would be the solution for you. Weir tanks have a unique design that speeds up the settling of solids, particulates and floating oils. Some weir tanks also have a 'V' shaped floor that is designed to drain stored liquids from underneath.
Weir tanks are sectioned off into three or four different compartments that may include a settling tank. The settling tank allows heavier rock fragments and cuttings to separate from the hydraulic liquids and sink to the bottom. The tank can also be transported easily to the job site or another location for disposal.
Weir tanks usually have a capacity of 18,100 gallons and are used in oilfield applications. These unique tanks are ideal for any project needing a portable tank that can separate solids and sediments with the ability to drain liquids. They are also effective for environmental jobs such as pond and sludge dewatering.


MUD TANKS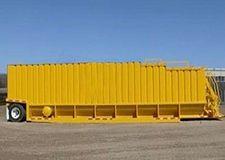 Need a tank that will not only store materials but also mix and separate? A mud tank designed for oilfield applications delivers. Mud tanks offer a large 21,000 gallon or 500 BBL storage capacity and are often used in the Oil & Gas Industry.
Mud tanks are ideal for separating drilling mud from the cuttings during the fracking process. Mud tanks also have a mixing capability that keeps the mud always suspended and ready in preparation for pumping. They are also great for storing drilling fluid on a drilling rig, or even freshwater used for fracking.