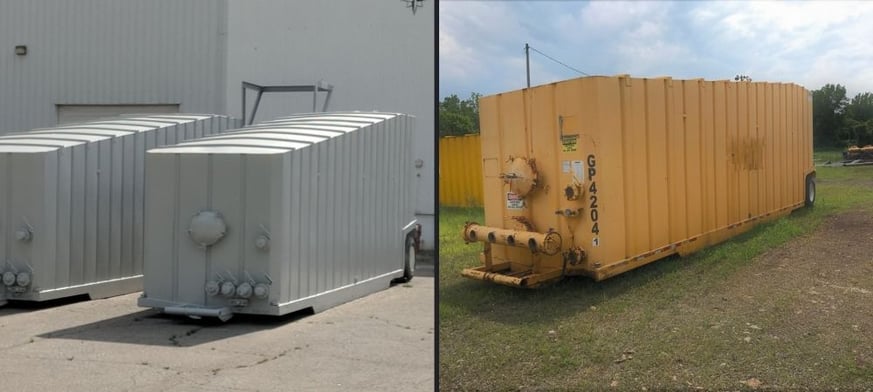 A slope top tank is a type of frac tank that has a shorter length and taller height on one end, giving it a sloped design that is ideal for certain situations. Slope top tanks can easily be hauled from one location to another by semi-truck, and are ideal for agricultural applications.
Slope Top Tank Specifications
A slope top tank is similar to the flat top style tank because it has the same 21,000 gallon or 500 BBL capacity and has a closed top. The slope top tank has an outer dimension of 12' 6" high by 8' 6" wide by 41' long. The short length gives a slope top tank a tighter turning radius, which is ideal for any project accessed by narrow roads.
These unique tanks are taller on the back side near the wheels, so that when the front end of the tank is loaded onto a semi-truck for hauling it still meets height regulations. Slope top tanks also feature multiple manways in key spots on the tank, plus multiple valves that can be hooked to pumps or hoses when filling or draining.
Ideal for Agricultural Applications
Since the slope top tank has a tighter turning radius, it is ideal for agricultural applications. Narrow farm roads make a slope top tank the easiest of all tanks to maneuver to the job site. Many farms use a large capacity slope top tank for storing fertilizer in key spots between fields for easy access and more efficient fertilizing. Other farmers may also use this type of tank for fuel storage on large operations where it is more convenient to refuel equipment during the busy harvest time.
In addition to fuel and fertilizer, farms can also use slope top tanks for bulk manure storage and even for livestock watering on large livestock farms. Easily transport your tank to key locations in between uses with a semi-truck. Use your slope top tank year after year for an investment that saves time and money on farms of all sizes.
Used Tanks Offer More
A new slope top frac tank may be nice and shiny, but it's hard to find and also thousands of dollars more expensive compared to a used frac tank. Used tanks are cleaned between each use, and our tanks are inspected thoroughly. Some used tanks are also refurbished, which can extend their life for years. A used slope top frac tank could be the right solution for you.
When buying a used tank, it's important to understand what you're going to be using it for so that you can determine an acceptable tank. Need help finding a used slope top tank that's right for you? Contact us and let's find a solution together!